Reducing our carbon footprint and helping to preserve vital resources
Our Science Based Targets
Arçelik has approved Science Based Targets (SBTs) for a well-below 2-degree scenario to reduce Scope 1 and Scope 2 GHG emissions by 30% and Scope 3 GHG emissions from the use phase of sold products by 15% by 2030 from a 2018 base year.
Arçelik has also committed to the Science Based Targets Initiative to become a Net Zero Company as of 2050 in line with the Science Based Targets Net Zero Standard. This means that Arçelik will set even more ambitious near term and long-term Science Based Targets in line with a 1.5 degree scenario. We will revise the new base year target as 2022 and broaden the scope to include all Arçelik's joint ventures as well as all MDA (major domestic appliance) product groups. We will submit our Net Zero Target to the Science Based Targets Initiative as of 2024 March for validation.
Other Key Developments
In 2022:
7,525 tonnes of CO2e emissions prevented and 94,324 GJ energy saved with Energy Efficiency Projects

65% green electricity used in global manufacturing operations

176,984 m³ of water saved

Approximately 591,433 trees were saved from being cut down by using 34,790 tons of recycled cardboard for products packaging globally

A total of 13,207 tons of recycled plastics and 7 tons of bio-composite plastics were used

A total of 8.83 tons of recycled waste fishing net and 218 tons of recycled industrial thread were used in oven, washing machine and dishwasher parts

1.65 million WEEE units recycled in our recycling plants since 2014

Fan parts of dishwashers were produced by recycling approximately 2,154 dishwasher baskets obtained from WEEE recycling plants.

51.4% of turnover obtained from energy efficient products.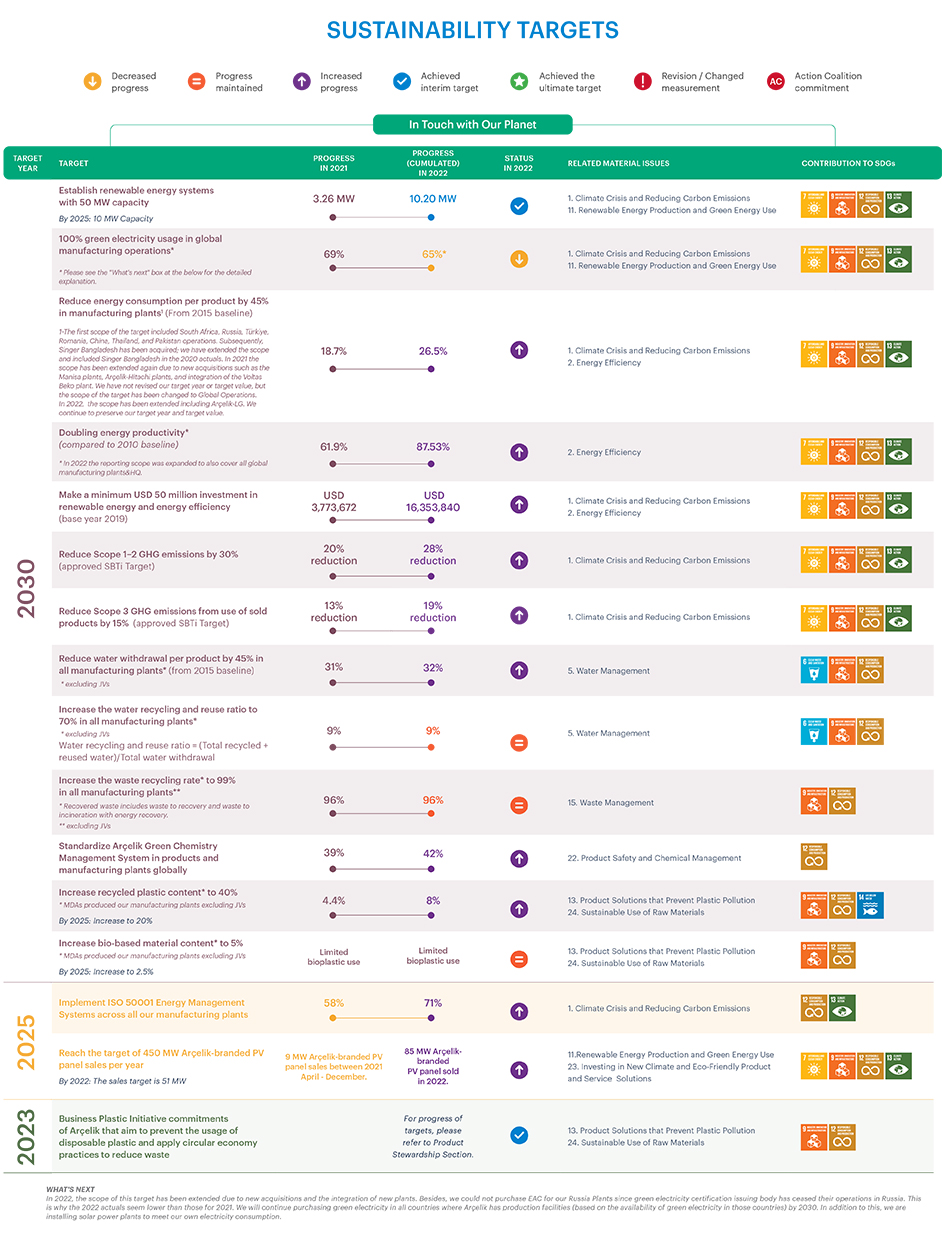 Sustainability Report 2022