Today, there is a great need to reset the way we live our daily lives and how we do business in the face of the world's environmental and social complexities. To tackle these challenges, the world needs a more inclusive and sustainable future and an economy in which businesses balance purpose and profit.
We embed sustainability at the core of our business strategy in the scope of our vision, Respecting the World, Respected Worldwide, which enables us to create value for all our stakeholders. We take concrete steps today to make the world sustainable tomorrow with the technology we develop to improve the planet, life, and our business.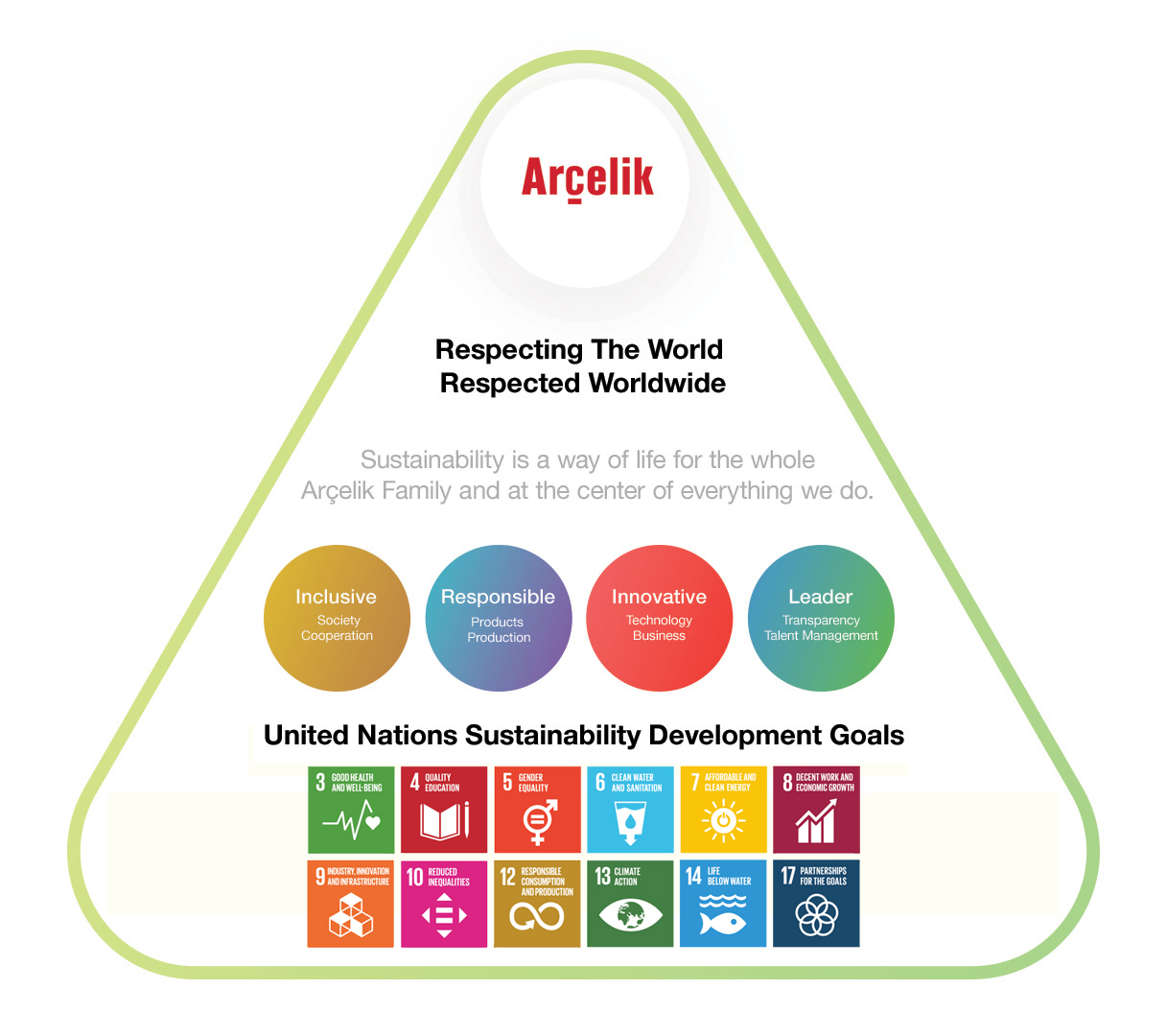 Arçelik aims to meet the changing needs of the society and to create mutual value through collaborations with different stakeholder groups in line with its "Inclusive" principle. In line with this principle, Company gets strength from the diversity and entrepreneurship of its workforce and believes that sustainable social benefits and social change might be attained through cooperation in product and technology development with public institutions and NGOs.
In line with our In Touch Technology framework, we have set our short-medium-long term targets towards 2030 which will ensure that we realize our commitments. Our strategy comprises three main pillars that are addressed through our targets for 2030 connected to the bigger global agenda, in line with the SDGs; In Touch with our Planet, In Touch with Human Needs, and In Touch with Business.
We consider sustainability as our business model and monitor ESG risks that are in accordance with our corporate strategy. Our enterprise risk management system includes the evaluation and management of both financial and non-financial risks by developing rationale scenario analysis and testing. The adoption of an integrated approach enables us to monitor, measure, and manage the ESG risks and their impact on the financials.
The most important ESG risks for Arçelik are identified as the climate crisis, cybersecurity, digitalization, data privacy, loss of reputation, business continuity including its interdependency, employee engagement, human rights and ethics and sustainable supply chain. We constantly monitor globally emerging risks and integrate them into our risk management system and regularly update our risk analysis.
Our ambition is to further develop our business towards achieving a low-carbon future and ensuring our business is resilient and adaptable for climate and other ESG-related risks and opportunities. By supporting TCFD, we strive to strengthen the link between climate change and its financial impacts on our business and operations.
We believe that the TCFD recommendations will further improve our reporting capabilities and act as a key mechanism to support the implementation of concrete measures, leading to investor interest around forward-looking ESG performance management.
TCFD Reporting and Other ESG-Related Risks & Opportunities table is available in the link below. 
ESG Related Risks and Opportunities