Climate Risk Strategy
At Arçelik, we are taking steps to limit the increase in global temperatures to the 1.5-degree scenario. To achieve this, we are investing heavily in energy efficiency and renewable energy in production and purchasing green electricity to further decrease GHG emissions. We are also investing heavily in R&D to produce energy-efficient products to reduce the GHG emissions associated with the use phase of the products.
Being a Taskforce on Climate-related Financial Disclosures (TCFD) signatory, it is essential for the Company to integrate the risks arising from the climate crisis into the Enterprise Risk Management System to execute the relevant action plans in line with the Company's Net Zero 2050 strategy and corporate sustainability strategy.
In order to ensure the top level oversight of climate-related risks, the Board Member  who is also Koç Holding Consumer Durables' President has been tasked with reporting the ESG-related issues to the BoD and overseeing the climate-related risks. The Board Level Risk Management Committee has also been appointed as the highest level committee responsible for the oversight of ESG risks and opportunities.
In addition, Arçelik Sustainability Management Department is responsible for qualitative-quantitative identification of climate related risks based on scenario analysis in terms of both physical and transition risks and reports such risks to the Enterprise Risk Management Department. Enterprise Risk Management Department includes these climate-related risks in its reports to the Risk Management Committee. The Risk Management Committee oversees climate-related issues at least two times a year.
The Sustainability Council (SC), chaired by the CFO is the highest management level committee responsible for assessing and managing climate -related risks and opportunities and gathers quarterly to shape the strategy going forward. The Quality, Sustainability and Corporate Affairs Executive Director serves as the highest-ranking individual with responsibility for assessing and managing climate-related issues and execution of the entire sustainability strategy at the management level in the Company.
Our ambition is to further develop our business towards achieving a low-carbon future and ensuring our business is resilient and adaptable for climate and other ESG-related risks and opportunities. In order to achieve this goal, Arçelik shapes its climate change and decarbonization strategy based on two pillars:
Approved Science-Based Targets:
Arçelik has approved Science Based Targets (SBTs) for a well-below 2-degree scenario to reduce Scope 1 and Scope 2 GHG emissions by 30% and Scope 3 GHG emissions from the use phase of sold products by 15% by 2030 from a 2018 base year.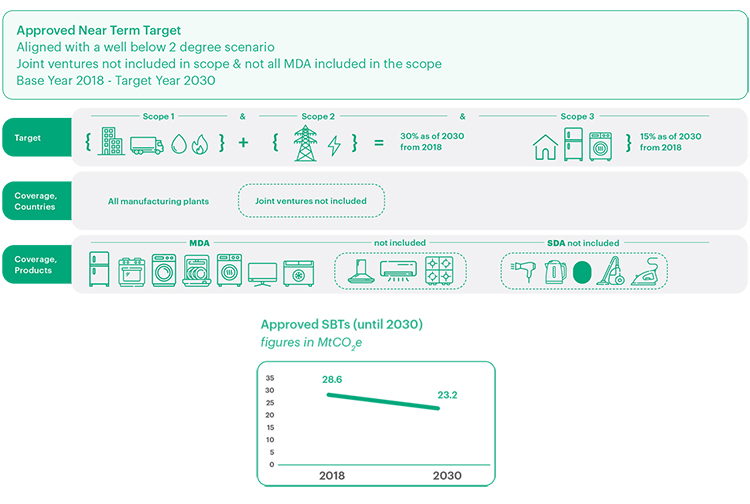 2050 Net Zero Commitment in Line with Science-Based Targets Initiative Net Zero Standard:
Arçelik has also committed to the Science Based Targets Initiative to become a Net Zero Company as of 2050 in line with the Science Based Targets Net Zero Standard. This means that Arçelik will set even more ambitious near-term and long-term Science Based Targets in line with a 1.5-degree scenario. We will revise the new base year target as 2022 and broaden the scope to include all of Arçelik's joint ventures as well as all MDA (major domestic appliance) product groups. Our net-zero target means that from 2022 base year, we are on a pathway to decrease our global scope 1- 2 and Scope 3 emissions by 90% by 2050. We aim to do this by taking challenging innovative actions in our whole value chain and investing in qualified nature-based and/or technology-based carbon removal projects for our 10% residual emissions in line with the SBTi Net Zero Standard.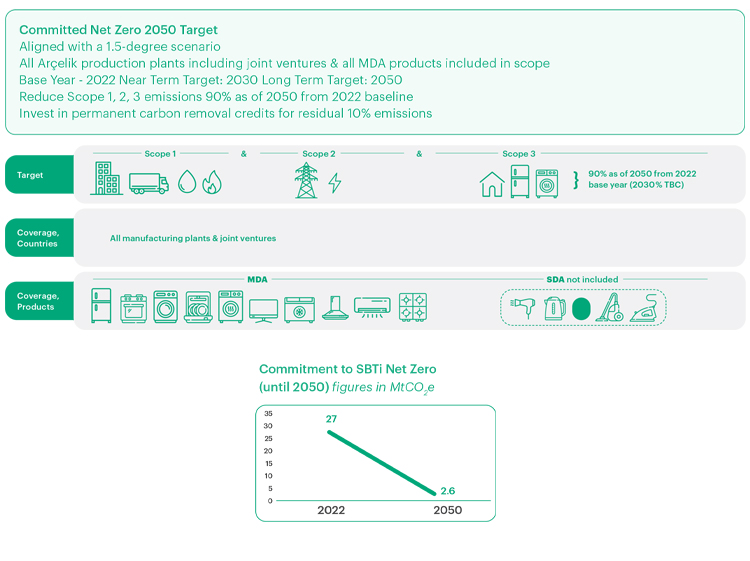 Net Zero Roadmap in Detail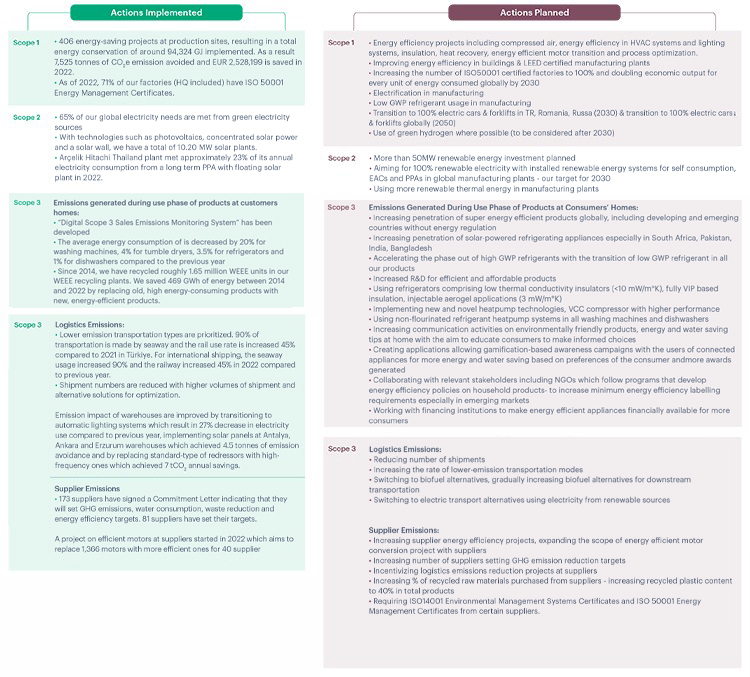 Arçelik's Climate Change Strategy

Our strategy to contribute to a low carbon economy has a history extending back to more than a decade. In line with our commitment to combat the climate crisis, we take actions to minimize the environmental impact of our products throughout their life cycle. We design our products that comply with the new energy label and environmentally friendly design requirements. By increasing resource efficiency and circularity of our products we contribute to a circular economy.
You may see Arcelik's Climate Change Strategy for more information.
TCFD Reporting
By supporting the TCFD, we aim to strengthen the link between climate change and the resulting financial impacts on our business. To see Arcelik's TCFD Report, please visit Arcelik's Sustainability Report.
Global Sectoral Relations Management & NGO Membership Policy Document
Reducing adverse and irreversible impacts of global warming is in the main agenda of the most international and regional organizations. There are also increasing trends to set rules and standards for companies operating in different sectors. We are closely following laws and regulations regarding climate change, circular economy, digitalization, and sustainable product criteria policies and strategies. and We also play an active role in contributing to the formation of opinions on these laws and regulations with the organizations of which we are members* of such as, DigitalEurope, APPLiA, AMDEA etc.
*Please refer to Arçelik Sustainability Report, "SELECTED MEMBERSHIPS AND ARÇELİK'S CONTRIBUTIONS" for breakdown of the payments made to trade associations for managing our business, the % of payments and why the association is important for us. Please note that these payments are not related to any political campaigns or lobbying activities.
On top of this, Arçelik tries to be in line with international climate-related initiatives and regulations and clearly declares its position against against these such as the European Green Deal, Emission Trading System (ETS), Carbon Border Adjustment Mechnasim (CBAM), Ecodesign for Sustainable Products Regulation (ESPR) and so on. Please see Arçelik's Review on Industry Association Memberships for further information.
Building on Arçelik's global approach to stakeholder engagement, this policy provides a framework to engage with public institutions, non-governmental organizations, sectoral institutions including but not limited to climate change specific issues.
Review on Industry Association Memberships
As a company with approved Science Based near term targets, and a Science Based Net Zero 2050 commitment in place to set science based net zero targets, Arçelik is highly committed to act in line with the goals of the Paris Agreement. Therefore, in its relations with stakeholders including but not limited to trade/industry associations, coalitions, NGO's, suppliers, B2B customers, Arçelik commits to act and cooperate in line with the necessities of the Paris Agreement. Our sector related engagements and representations in the leading and major trade/industry associations are monthly reported to the top management. To the best of our knowledge, the leading and major industry associations that Arçelik has membership have no contradicting opinions against the Paris Agreement criteria. In case such contradicting opinions arise, Arçelik commits to not be part of any organization or cooperation that would divert its mission away from transition to a low carbon economy, aiming for a net zero world no later than 2050. For detailed information, please see our Global Sectoral Relations Management & NGO Membership Policy Document. 
Supplier ESG Program
In addition to these, we are eager to transform all together with our supply chain and minimize the impact of the operations in the value chain in total. Therefore, it is important that we help and guide our suppliers to set environmental targets, measure their progress, and reduce their impact. Thus, we developed a Supplier Sustainability Data Monitoring and Development Program. Through this program, we are sending our suppliers a survey with a list of both qualitative and quantitative questions about the ESG issues including climate-related matters. We assess suppliers based on the data provided to understand their level of maturity in terms of ESG integration into their business based on our internal assessment. We also conduct third-party audits to monitor their performance. If any findings signal a potential ESG risk, we provide corrective actions plans to the related suppliers. To get further information, please see our Supplier ESG Program document.