Edition #1 – For internal use only
How have businesses and CEOs responded to the COVID-19 crisis?
As the COVID-19 crisis continues to spread, business leaders are standing out with bold actions and home appliance manufacturers are stepping up to the challenge.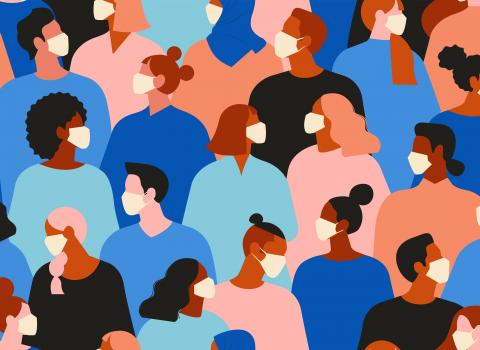 As the COVID-19 crisis continues to spread, companies are hurrying to mobilize responses however they can. Business leaders are standing out with bold actions and home appliance manufacturers are stepping up to the challenge too. These companies are providing medical supplies, donating money and white goods to medical and relief organizations, while encouraging their employees to work from home to safeguard the health of themselves and their families.
Arçelik
Arçelik, in collaboration with the Republic of Turkey's Ministry of Health, has donated white goods and small domestic appliances to hospitals around the world to meet the essential needs of healthcare workers. We have given seniors (65+) priority in service and product installation and commissioned the mass production of ventilation equipment to be used in the treatment of COVID-19.
Our CEO Hakan Bulgurlu has a message for the Arçelik family:
"It is our first priority to maintain a safe workplace and adopt practices to protect the health of the Arçelik family. In light of the global COVID-19 outbreak, we have taken several precautionary measures to ensure the well-being of our community. We have donated white goods and small domestic appliances to over 420 hospitals in the markets that we operate in, to meet the essential needs of healthcare workers. We are also very proud of our teams who have been working day and night to produce ventilators. Ventilators are vital, life-saving devices in the fight against the coronavirus pandemic and it is our intention to manufacture 5,000 units by the end of May."
B/S/H
The Board of Management has decided to suspend production at its factories in Europe, Turkey and North America for a period of three weeks. The interruption of production in the BSH factories in Europe began on March 28, in North America on March 23, and in Turkey on April 4.
Uwe Raschke, CEO of BSH made the following statement: "Due to a wide range of economic and political uncertainties, as well as the unforeseeable consequences of the coronavirus disease, we know that 2020 will be extremely challenging for our business."
BSH China donated a total of 500 home appliances products to 50 hospitals in affected areas in Wuhan, Nanjing, Wuxi, Chuzhou and other Hubei areas. 
Dr. Alexander G.C. Dony, President of BSH China, said: "Our response to the outbreak of the coronavirus is a natural reaction where we intend to give back in practical ways, particularly to those who need it most. BSH and our employees will continue to do their utmost to combat coronavirus and to help those affected." 
Electrolux
Electrolux has closed its plant in South Carolina after an employee tested positive for COVID-19. The company announced that the entire factory would be closed throughout the night of March 29, and the building where the employee worked was closed throughout the night of March 30 to allow for the necessary sanitization and disinfection processes to take place.
CEO of Electrolux, Jonas Samuelson, said: "The world is facing an unprecedented health challenge where businesses, authorities and private citizens all have to contribute to reduce the impact on society from the spread of the novel coronavirus. We're stepping up our efforts to encourage more employees to work remotely and we're reshaping the way we work at manufacturing sites in highly impacted areas to ensure the health and safety of our people. At the same time, we of course want to safeguard the needs of our consumers and trade partners." 
Electrolux also supported the Swedish government-organized 'Hack the Crisis' hackathon event which was held digitally between 3-6 April with the goal to develop concepts to help the fight against COVID-19. 26 Electrolux employees participated as hackers – from designers, to programmers, to HR and business functions.
Whirlpool
Whirlpool initially closed its production facility on the evening of March 24 after an employee tested positive for the coronavirus. It was then announced that the shutdown of production would be extended throughout the week of March 30.
Whirlpool is providing medical supplies (hand sanitizers, hand soaps, medical gloves and masks) to Spectrum Health Lakeland, a nonprofit community-owned health system in Michigan. 
Marc Bitzer, CEO of Whirlpool, made the following statement: "We're all going through turbulent times as we are in uncharted waters. The coronavirus didn't come with an instruction manual. Not for hospitals or businesses. We need to do what we can to support the front lines." 
On April 3, Whirlpool made an announcement, asking salaried employees based in the U.S. to take two weeks of unpaid leave as a proactive measure against the coronavirus pandemic. Employees are also to schedule a two-week furlough between April 13 and the end of May.
Samsung Group
Samsung Group has donated a combined total of 30 billion won ($24.6 million) to the Korea Disaster Relief Association to assist in the provision of medical supplies and other services after a series of board member and management committee meetings on the topic.
The company also donated $4.3 million and protective medical equipment to China to help fight the epidemic.  
Lee Jae-Yong, CEO of Samsung Group, said: "Now is the time to share with society. Samsung has grown with the support of the people. We have to share with society at a time like this."
Haier
Haier launched an IoT-based anti-coronavirus epidemic platform, called COSMOPlat. The system creates a supply and demand platform to align production with the need for protective clothing between hospitals and suppliers.
They donated three million yuan ($420,000), which was used for the purchase of medical equipment, and two million yuan worth ($280,000) of home appliances, including fresh air systems, disinfection cabinets and electric water heates.
In the United States, GE Appliances team secured millions of medical supplies and employees volunteered to load the supplies into containers, in order to prepare them ready for shipping to China. 
Haier Europe shipped medical equipment worth $150,000 to China.