Biodiversity
Being aware of the vital importance of natural ecosystems for all of us, we aim to protect biodiversity through initiatives towards our commitments.
At Arçelik, we recognize biodiversity loss as a one of the global issues which is under pressure from several aspects. We have assessed our biodiversity risk assessment within the scope of our own operations to address our nature-related impacts and dependencies based on emerging frameworks including Science Based Targets for Nature and Taskforce on Nature-related Financial Disclosures.
The first step of the assessment includes mapping our business footprint of our own operations to implement location-based approach. The geo-mapping of our manufacturing facilities has been carried out using the Integrated Biodiversity Assessment Tool (IBAT). The locations were assessed based on IUCN Red List of Threatened Species that potentially occur, Protected Areas, Key Biodiversity Areas within 50 km of this site. As a result, a total number of 6 of our manufacturing facilities are found to be considered further based on these 3 aspects.
The potentially material impacts of our industry have been defined through SBTN's Materiality Screening Tool which is based on ENCORE (Exploring Natural Capital Opportunities, Risks and Exposure). According to the result, the pressure areas required to assessed are water use, GHG emissions, water pollutants and soil pollutants, which are categorized under resource use, climate change, pollution.
Upon these steps, nature-related impacts have been further assessed and we have prioritized the facilities based on climate change and water stress which are very high priority on Arçelik's materiality analysis. Regarding dependency part of the assessment, Arçelik's dependency on nature has been assessed relatively lower. However, since water usage is an interrelated factor for impact and dependency, water usage has a dependency for our business to continue without disruptions. Arçelik does not withdraw surface water but considering its dependency on groundwater, it has qualitatively nature-related impact and dependency. In addition, a proximity to high biodiversity of our direct operations factor is another crucial factor we take into consideration from both nature-related impacts and dependency aspects.
We prioritized our manufacturing facility, in Romania as Arçelik has a factory that is adjacent to biodiversity-sensitive area, Natura 2000, which is known as Birds Directive Special Protection Area. In the region, we are already required to measure PM10, NO2, and SO2 quarterly under the National Air Quality Act 104/2011. In 2021, Arçelik has committed to go beyond by setting its roadmap with EPC Consultanţă de Mediu, an environmental consulting company specializing in biodiversity conservation. The impact on nature has been found limited. However, some certain strategies have been defined to create improvement for the biodiversity value of the land under the Company's responsibility through reducing the pressure and supporting the natural development of the habitat following IUCN Guidelines. For a location-based Project in Ulmi, Romania, please refer to below section.
Arçelik has Net Zero commitment by 2050 which means that from 2022 base year, we are on a pathway to decrease our global Scope 1- 2 and Scope 3 emissions by 90% by 2050. We aim to do this by taking challenging innovative actions in our whole value chain and investing in qualified nature-based and/or technology-based carbon removal projects for our 10% residual emissions in line with the Science Based Targets initiative's (SBTi) Net Zero Standard.
As a TCFD supporter company, Arçelik reports in line with the recommendations. Based on the outcomes of the S&P Trucost Climate Change Physical Risk Analysis, Arçelik and its suppliers are exposed to a moderate level of physical risk with greatest exposure to water stress, heat wave and cold wave. We also use the World Resources Institute's (WRI) Aqueduct Water Risk Atlas to assess water risks at our worldwide locations, and analysis results are evaluated annually. Upon this, three scenarios have been analyzed in 2022 based on optimistic, moderate and pessimistic by 2030. The locations are found at high water stress risk change at each scenario. However, certain locations such as Pakistan and India are at serious risk in all scenarios. As a risk adaptation plan, we have also set our 2030 target to increase the water recycling and reuse ratio to 70% in all manufacturing plants (excluding JVs) aiming to achieve a closed-loop water system in production. Additionally, we aim to reduce water withdrawal per product by 45% in all manufacturing plants (excluding JVs) by 2030 compared to 2015.
Our risk mitigation and risk and opportunity management already consider the pressure areas on biodiversity. To see Arçelik's TCFD Report, please visit Arçelik's Sustainability Report.
Arçelik applies Mitigation Hierarchy through preventing, minimizing, and mitigating factors that threaten biodiversity periodically. The pressure on biodiversity stemming from climate change, resource usage, pollution is aimed to be reduced by Arçelik's long-term targets based on water, energy, SBTi-aligned GHG emissions targets. Arçelik aims to work to improve biodiversity footprint towards No Net Loss as of 2050 especially in selected priority areas such as areas in close proximity to key biodiversity protected areas. Such actions will include calculating the biodiversity footprint of the area, designing projects that will help increase biodiversity of endangered or vulnerable species classified by IUCN Red List or national declarations and measure the improvements against the initial footprint. With this focus on biodiversity protection, we will cooperate with third parties specialized in biodiversity protection if necessary.
For more information about our policy, please refer to Arçelik Biodiversity and No Deforestation Policy.
Location-based Project in Ulmi, Romania
We have the ambition to improve the biodiversity on the site of Ulmi factory by implementing actions to reduce pressures and support the natural development of habitats by 2027.
Arçelik has built a partnership with EPC Consultanţă de Mediu, an environmental consulting company based in Romania. Within this scope, the habitat conditions will be improved in accordance with IUCN Guideline.
During the stages of the study, the main topics were defining state and benefit indicators in relation to the goals, pressure and response indicators against objectives and strategies, and developing of a biodiversity strategic plan.
The priority species are determined as follows:
Plant species (Typha minima);

Aquatic insects (damselflies and dragonflies);

Grassland species (butterflies, bees, beetles, crickets, grasshoppers);

Amphibian species (Triturus cristatus, Bombina bombina, Hyla orientalis, Bufotes viridis, Bufo bufo).

Reptile species (Lacerta agilis, Natrix natrix);

Aquatic bird species (Charadrius dubius, Egretta garzetta, Anas platyrhynchos, Vanellus vanellus);

Predatory bird species (Athene noctua, Falco tinnunculus);

Small mammals (Microtus sp., Erinaceus roumanicus, Nannospalax leucodon, Talpa europaea);

Medium-sized mammals (Lepus europaeus, Vulpes vulpes);

Bat species (Pipistrellus nathusii/ kuhlii, Nyctalus noctula, Vespertilio murinus).
Vision: We will improve the biodiversity on the site of Ulmi factory by implementing actions to reduce pressures and support the natural development of habitats
 Objectives

 Key strategies

 Objective 1:
 Reduction of
 existing pressures.

 Significant reduction of grazing by domestic animals.

 Reducing the risk of wildlife mortality on the entire   factory site.

 Objective 2:
 Improvement of
 habitat conditions
 for bird species.

 Creating a mosaic of habitats necessary for assuring   the optimal
 conditions for feeding, nesting and reproduction of   birds.

 Creating birds' artificial structures for resting and   nesting.

 Objective 3:
 Improvement of
 habitat conditions for
 other fauna species.

 Ensuring favourable habitats conditions for   increasing the diversity
 and density of invertebrates, amphibians, reptiles and   mammals.
Commitment Against Deforestation
We are committed to no gross deforestation from our operations' activities by 2050.
Forests offer nature-based solutions to many global challenges, from combatting climate change, biodiversity loss, to building resilience against future crises. At Arçelik, we are working to eliminate deforestation within our supply chain. Arçelik's Biodiversity and No Deforestation Policy is launched within the scope of activities affecting deforestation along the value chain in the reporting year. As a result of our deforestation assessment, we focused on paper and wood- based packaging materials for our products.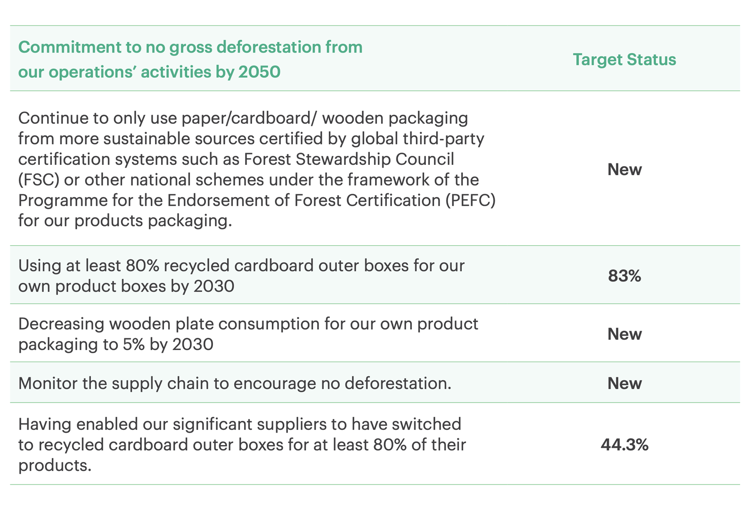 For more information about our policy, please refer to Arçelik Biodiversity and No Deforestation Policy.