Greenhouse Gas Emissions from Manufacturing
In line with our strategy to combat climate crisis, we have set greenhouse gas emission reduction targets and we aim to increase awareness across all stakeholders. We have a target to become carbon neutral in production in Turkey as of 2025. We are developing energy efficiency projects and investing in renewable energy systems to contribute the fight against the climate crisis. With our energy efficient products, we contribute to reducing our customers' carbon footprints as well. GHG emissions generated by our Turkey operations have been verified  in accordance with ISO 14064 Standard since 2010. In 2015 Arctic (Romania), in 2016 Beko LLC (Russia), in 2017 Beko China (China), and in 2019 Defy (South Africa) operations have been included to ISO 14064 GHG Management System in Arçelik. We extend our ISO 14064 and sustainability report coverage year by year. Thanks to the energy efficiency projects carried out in 2019, total direct and indirect-energy greenhouse gas emissions were reduced by 70%, as against 2010 in Turkey operations.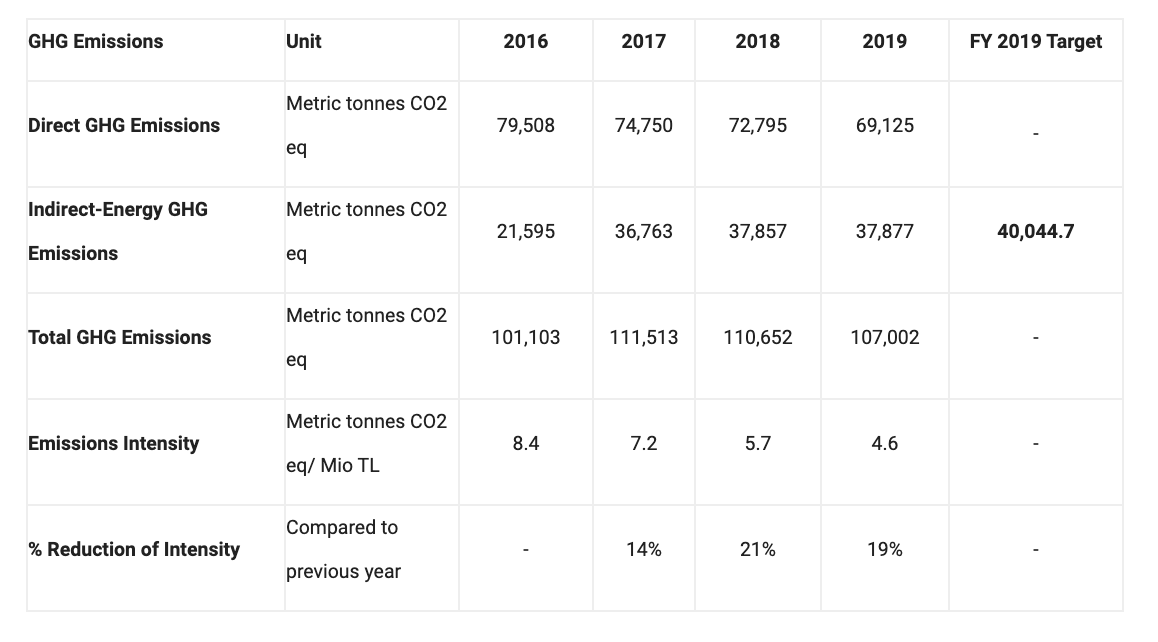 Arçelik's Sustainability Council and the Climate Change Working Group identify policies and strategies regarding sustainability and the climate crisis, from which we establish collaborations, ensure that decisions taken are implemented, and track performances to make sure targets are met. All work carried out in sustainability is regularly reported to Arçelik Board member, Koç Holding President of Consumer Durables Group, who is appointed responsible to report to the Board on sustainability related matters. The reports are presented to the Board of Directors every four months.
Efficiency in the Supply Chain
In addition to our operations, we also manage the environmental impact of our supply chain, which we reduce by cooperating with our suppliers in different fields, especially energy and waste. As part of our energy efficiency efforts, we completed 132 energy projects, saving approximately 42,000 GJ of energy and reducing 5,330 tons of CO2 emissions.
Greenhouse Gas Emissions from Logistics
We are working to reduce the greenhouse gas emissions from logistics to help tackle the climate crisis. In this context, we reduced the number of LPG forklifts by 12% compared to the previous year. In our exports, we aim to reduce greenhouse gas emissions from transportation by increasing the use of marine and railways instead of highway transportation. We increased the rate of marine transportation use from 83% to 85% in 2019, and we have set our 2020 target as 87%. In addition to marine transportation, we aim to increase the rate of railway transportation use from 3.5% to 4.5% in 2020.
Based on this, we calculate the greenhouse gas emissions of our products resulting from domestic transportation, import, and export logistical activities in accordance with the ISO 14064-1 Standard, and verify the results with an independent accredited institution. In this context, emissions from our domestic, export, and import logistical activities in 2019 amount to 155,644 tons of CO2e.
Please see our 2019 ISO 14064 GHG Verification Statement.
Please see our 2019 ISO 14064 GHG Assurance Reports.
Please see our Strategy to Combat Climate Crisis.