At Arçelik, we believe that every employee deserves fair and equal treatment. In line with our Diversity Policy, we value inclusion and diversity in top management and in the workforce globally.
We attach importance to providing equal opportunities and diversity to create a workplace where any discrimination is not tolerated, and differences are seen as strength. Arçelik has zero-tolerance policies towards discrimination against people based on their ethnic origin, religion, language, race, age, gender, sexual orientation, nationality, disability, or cultural differences, and we abide by the rules of fair treatment and merit in all our human resources processes. In this context, there were no cases of discrimination in our operations in 2021.
Arçelik has a global workforce in various counties and employees located outside the company's country of headquarter (Turkey) is 50.7% in 2021. Arçelik's global employee engagement survey covers DEI-based question which asks the degree of of diverse backgrounds and ways of thinking at workplace. Please refer to our 2021 Sustainability Report for detailed information on employee distribution by different diversity indicators.
Gender Equality
Arçelik is committed to promoting and preserving a workplace environment that presents equal opportunities for all. To contribute toward equal and fair societies, we support gender equality and women's participation in social and economic environments under equal conditions. We evaluate all our projects, operations, and practices through the perception of gender equality within the aim of closing the gender gap. We are a signatory of the UN Women's Empowerment Principles (WEPs) since 2017. We focus on empowering women in business, one of the most essential factors in boosting socio-economic development.
In 2020, we took a step forward in our efforts to achieve gender equality across all our operations worldwide, and we have set additional targets for 2030 for different positions with a 2020 baseline.
For the detailed information about most recent gender based corporate data and programs carried out in 2021, please check the Gender Equality, Diversity and Incluson section of Arçelik 2021 Sustainability Report.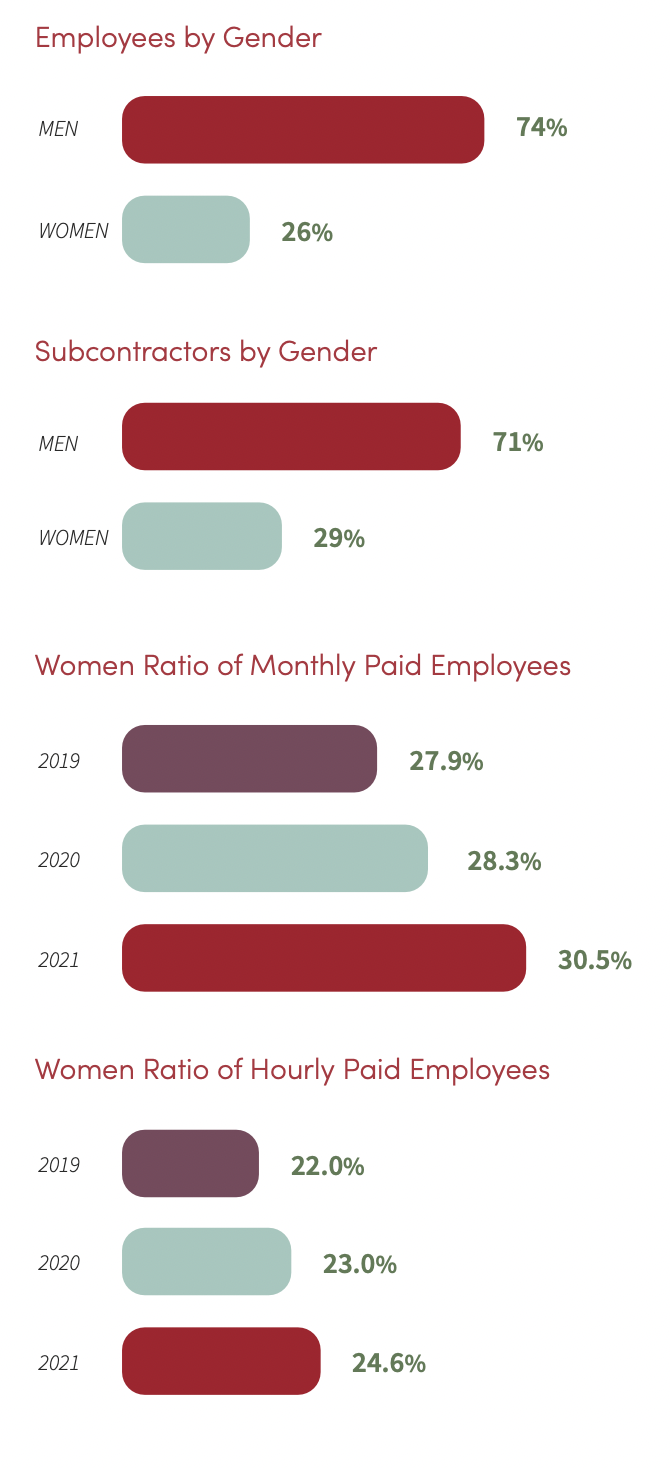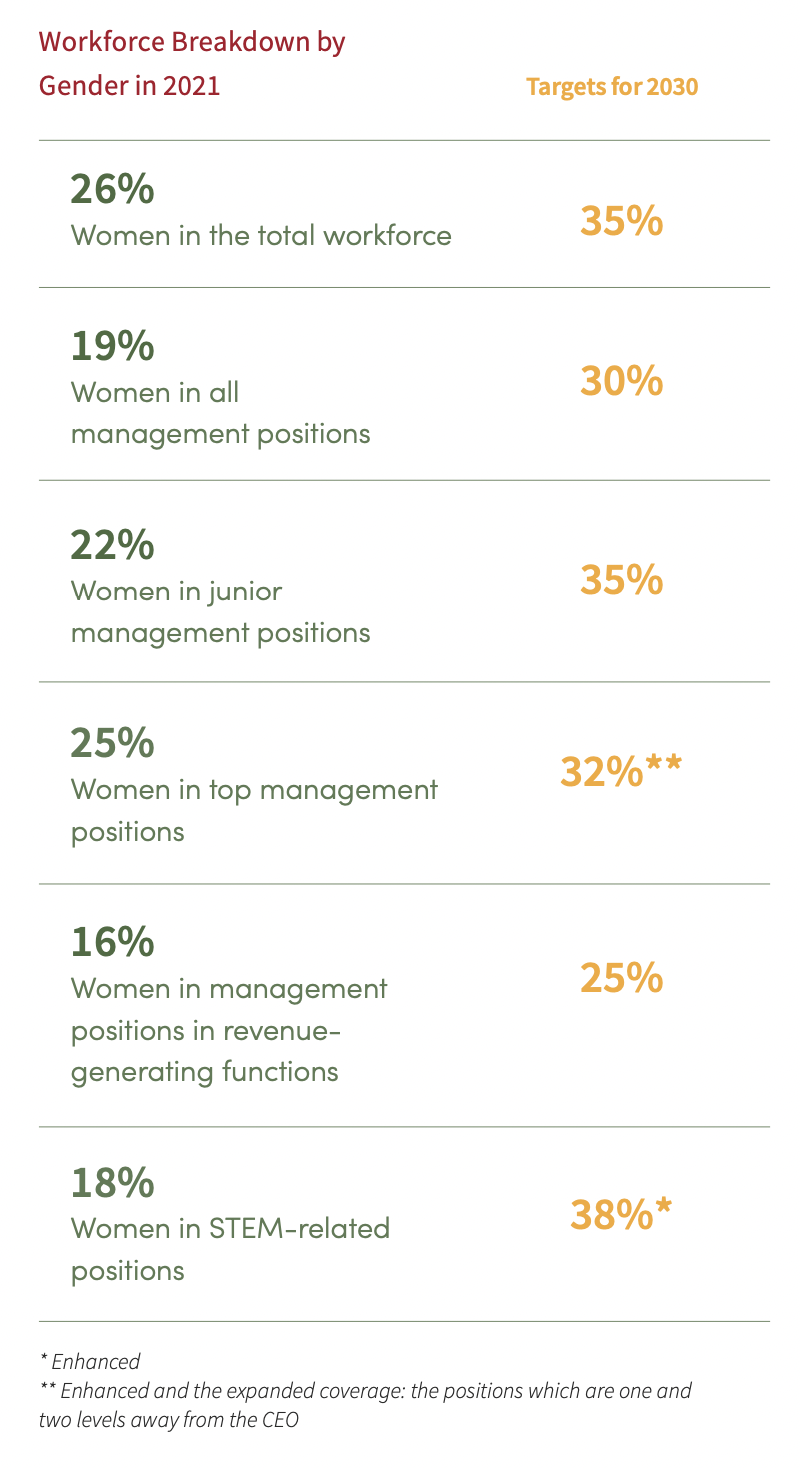 In addition to the data of women in management positions in revenue-generation functions shown above, woman employees in revenue-generating roles is 25.5% in global operations.
In accordance with our global pay policy, compensation is determined on the value of work and contributions made while considering experience, competence, and performance. We have a strong commitment to gender-balanced candidate pools, provided by internal recruitment teams as well as external headhunters. We follow diversity not only in these candidate pools but also in shortlisting and the final stage of recruitment.
We have a recruitment plan to hire at least 50% women employees in order to reach our targets by 2030. We continue to develop action plans for our current and future talent to help them form a strong bond with Arçelik in their professional and personal lives.  In 2021, total employee turnover rate is 12.9 which accounts for 3.7 and 9.2 for women and men, respectively. Additionally, promoted woman and man employees is 31% and 69% in 2021, respectively. The both data covers global operations.
Global Parental Leave Policy:
Arҫelik is committed to support new parents, their families and children by increasing the time they spend together. We know that spending more time with child provides a healthy start with their life and creates stronger bonds between child and parent. We are a family-friendly employer and believe that this policy will serve and enhance our existing commitments to be an equal-opportunity employer. At Arçelik, we want all our employees to be eligible for a common foundation of fully paid parental support and benefits, regardless of the country in which they are based. The policy features the following global paid leave standards:
Minimum standard of 16 weeks of fully paid maternity leave

Minimum standard of 5 calendar days of fully paid paternity leave
The countries in which we operate need to be as a minimum compliant with local legislation. The common foundations described in this policy are intended to exceed locally existing legislative conditions. Nothing in this Policy is intended to prevent or prohibit a more generous local practice. The legal regulations of the countries will be applied for the adoption leave.
Equal pay & gender pay parity
Key Perfomance Indicators (KPIs) regarding pay equity are reviewed on quarterly basis. Performance review indicators are reviewed every year on our policies, procedures, documentations, targets, improvements, compliance related actions to ensure pay equity.
For the detailed information about our equal pay policy and salary index, please check the Gender Equality, Diversity and Incluson section of Arçelik 2021 Sustainability Report.