Generating significant social, environmental and economic spheres of influence in our operational geography, we aim to manage our influence on these fields with a responsible and efficient sustainability approach. We operate in line with our vision "Respecting the World, Respected Worldwide" and focus on respect for society and nature in all our operations, consider our stakeholder expectations as  our primary guide.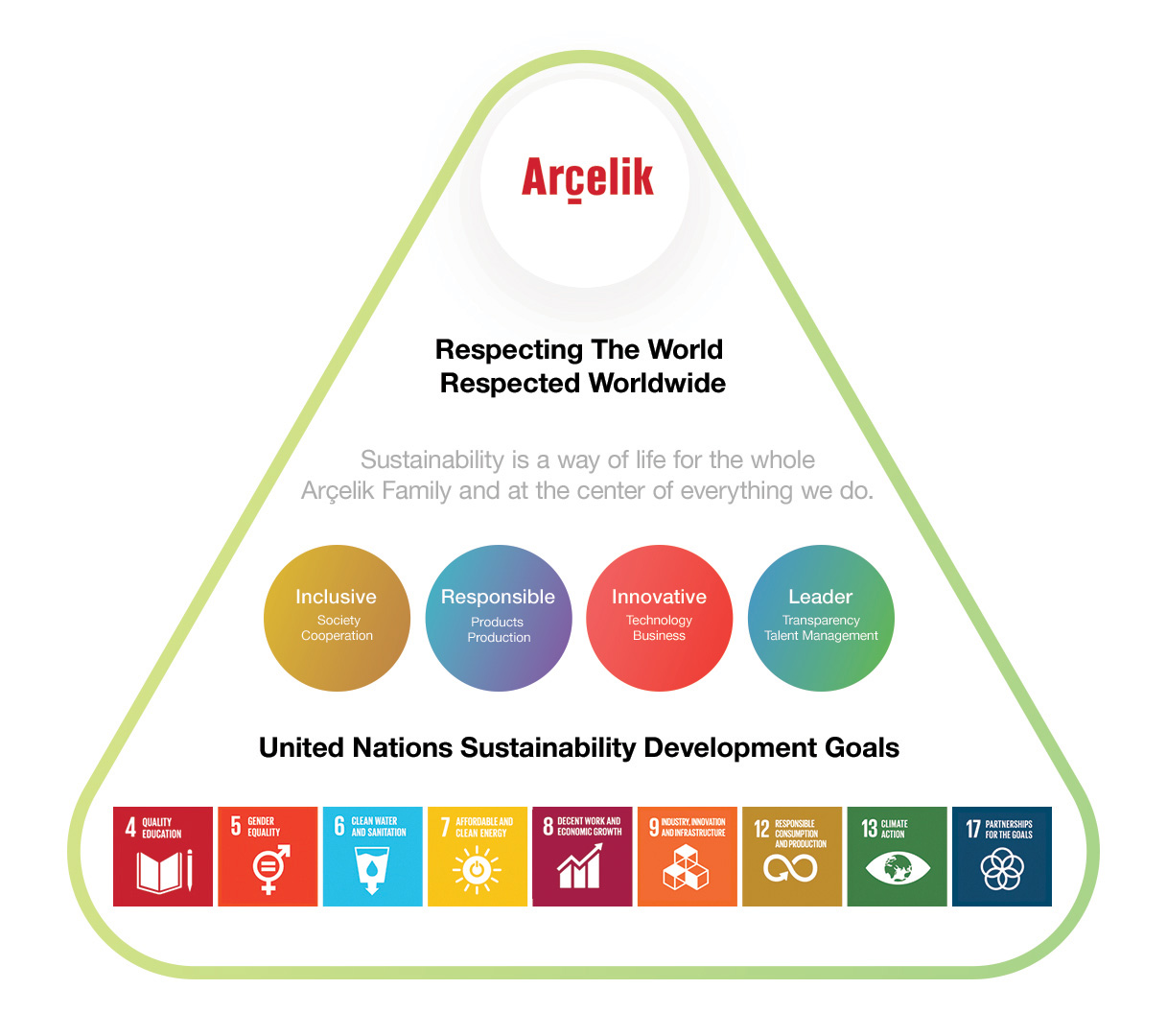 Arçelik believes that its financial successes can only become permanent through a sustainable business model, since it operates in a dynamic, competitive and constantly transforming sector due to the technological progress and therefore sets integrated business and sustainability goals. Arçelik, which manages its material aspects in line with the principles of "Inclusive", "Responsible", "Innovative" and "Leader", seeks to transform the risks in sustainability fields into opportunities.
Arçelik aims to meet the changing needs of the society and to create mutual value through collaborations with different stakeholder groups in line with its "Inclusive" principle. In line with this principle, Company gets strength from the diversity and entrepreneurship of its workforce and believes that sustainable social benefits and social change might be attained through cooperation in product and technology development with public institutions and NGOs.
In line with its "Responsible" principle, Arçelik strives to have a positive environmental and social impact both on its products and production processes.
Arçelik pioneers in the sector by integrating innovation to its corporate culture and all business processes in line with the "Innovative" principle and provides significant contributions to technological progress with its vast knowledge in this area. In line with this principle and by force of the digital era, the Company enters new business fields and meticulously evaluates the opportunities brought about by digitalization.
In line with the principle of "Leader", Arçelik makes investments that focus on discovering the talents of the employees, aims to bring up employees who are leaders in their fields and ensures their satisfaction and long-term commitment. The Company strives to set an example with its pioneering practices regarding transparency and accountability for the societies it operates in.
With its effective sustainability structure, Arçelik extends the policies in sustainability areas to the whole organization from the senior management to the lowest levels and to the value chain. It does not limit sustainability performance to the organization and considers the performance of value chain elements as binding. With concrete objectives, strong communication and efficient control mechanisms, it ensures the continuous improvement of the sustainability performance.
Sustainability Structuring
The Sustainability Council, the highest-level authority in sustainability management at Arçelik, is established to determine corporate sustainability and climate change policies and strategies, ensures their integration with corporate business processes and tracks sustainability performance.
Arçelik Sustainability Council, includes the Chief Production and Technology Officer, Chief Financial Officer, Chief Commercial Officer - Turkey & Pakistan, Finance Director, Chief Strategy and Digital Officer, Human Resources Director, Global Customer Care Director and Consumer Care Director – Arçelik Pazarlama A.Ş., Innovation Director, Global Communications Director,  Sustainability and Corporate Affairs Director.
The head of Sustainability Council is CFO and the General Secretariat of the board is Sustainability & Cooperate Affairs Director. The sustainability board meets biannual. Sustainability Council is responsible with reporting critical issues to Board of Directors. Our Company's Board of Directors resolved to the appoint of Fatih Kemal Ebiçlioğlu and Fatih Özkadı to inform the Board of Directors about the activities of the Company's Sustainability Working Group on March 28, 2019.
Duties and responsibilities of the Sustainability Council are:
Specifying the corporate policies and strategies about corporate sustainability principles and climate change,

Following the consolidation of corporate business process with specified sustainability and climate change policies and strategies, provide integration to corporate business targets,

Evaluating corporate risks and opportunities in scope of sustainability principles and policies, make strategic decisions and manage prior risks and opportunities,

Identifying KPIs and targets of sustainability and climate change related issues

Following the global developments on sustainability and climate change issues, to build the company strategies according to these developments,

Encouraging collaboration with NGOs, public enterprises, universities on sustainability and climate change issues,

Defining the strategic framework and decisions of the external sustainability assessment and rating tools (CDP, BIST SI etc.) and follow up the results.
Members of the Council, control and coordinate sustainability activities in their areas of responsibility and they chair Sustainability Working Groups.
The sustainability working groups are established to control and coordinate of the sustainability and climate change implementations. Arçelik Sustainability Working Groups (WG) are; Environmental Coordination WG, Energy Coordination WG, Climate Change Coordination WG, Green Chemistry Coordination WG, Health & Safety Coordination WG, Human Rights & Business Ethics Coordination WG, Value Chain Coordination WG, Sustainability Reporting WG.
Arçelik supports its effective sustainability structuring with corporate policies that bring together its corporate values with the company's sustainability strategy. Working principles and procedures are determined through Ethical Values, Environmental Policy, Energy Policy, Quality Policy, Occupational Health and Safety Policy, Human Resources Policy, Supplier Working Conditions and Public Disclosure Policy; the total harmony of practices with corporate policies is ensured.
In order to increase motivation,success and productivity of its employees and to materialize best practices and ensure their dissemination;Arçelik evaluates,rewards and ensures promotion within the company to all success,invention and suggestions that provide benefit. In this context,since 2005 Human Resources Dept. of Arçelik has been implementing an "Pyramid Climbers Awards" annually. All employees who are successful are encouraged and rewarded.One category of this award process is "Environment and Society Contributors". Projects nominated in this category are evaluated and concluded according to the following performance indicators:
to produce higher efficient solutions and/or products that reduce greenhouse gas emissions with spending less energy and source by environmentally friendly activities.

to develop projects that would contribute to the society lived and worked in with the perspective of social responsibility.

to set an example in/out of company with studies and make an effort for sustainability and dissemination of studies.

Environmentally friendly activities for product and production with energy efficiency projects are evaluated under this reward process.
Rewardable projects and solutions are announced within the company and the project owners are rewarded in "Pyramid Climbers Award Ceremony" which is held in October annually. Arçelik develops environmental friendly,innovative and technological products which increase life standards of customers with R&D employees. R&D Department collects creative and innovative ideas of employees through a suggestion system called "Inter", an evaluation board evaluates suggestions and projects design opportunity is created for ideas that may be transformed into a product. In the name of encouraging employees for creativity,to ensure announcement of creative ideas within the company and to reward owners of such ideas "Invention Award Ceremony" is organized on World Patent Day (on April) every year. By using TPM tools,our white and blue collar employees develop projects on subjects like environment,energy and climate change and such projects are identified at individual performance target cards of employees.Employees receive individual performance points in consideration of TPM activities they perform and they are rewarded at year end in response to these points by using tools like situational reward.
Energy Reduction Ratio (thus carbon emissions reduction) KPI is the part of the CFO's, COO's, Sustainability and Corporate Affairs Director's, Energy and Environment Managers' performance evaluation.