Exploring the New Normal with Arçelik's online hackathon: Hack the Normal
COVID-19 changed our lives and habits within a few weeks. Some of our habits brought by the pandemic will be permanent. So, what do we need to quickly adapt to the post pandemic process? Between 15th and 17th of May this year, we organized an online hackathon, the Hack the Normal with Atölye to find answers to these questions and to develop ideas, products and projects that will make people's lives easier.  A total of 53 teams, 190 mentors and coaches from 31 different cities and five different countries came together to look for ways to effectively navigate and adapt to the challenges of a post-COVID-19 world. Teams and projects were selected from more than 1,000 applicants with projects at varying stages of development (idea, prototype, ready-to-use product, pivot product, etc.). They all sought to answer the question: "How can we create a positive impact on "the new normal lifestyle" introduced by COVID-19?" from three different angles: Sustainable Living, Healthy Living, and Social Living.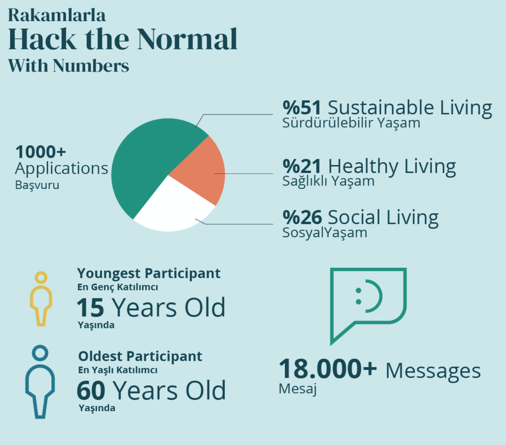 The participating teams received training on areas including problem discovery, research, solutions development, prototyping and storytelling, and attended seminars by experts in these fields. Under the guidance of Arçelik, the hackathon and its participants sought to adapt to the changes brought about by COVID-19 by developing new strategies and starting a transformation that would affect individuals, families and organisations.
Participating projects were evaluated against three criteria: "Is this an innovative idea and can it create impact?", "Is it applicable?" and "What is the commercial potential for it?".  These criteria were used by the judging panel, formed of Arçelik and its stakeholders, to identify the projects that will go on to receive support in areas such as prototyping, production, testing, product development, sales opportunities, and business modelling.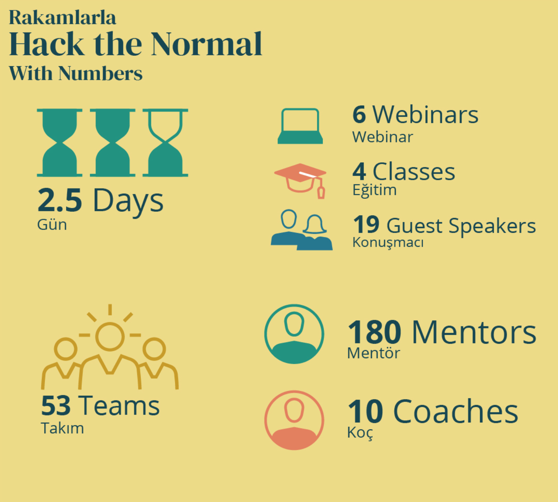 In the showcase event on 24th of June, 5 projects that were selected by the judging panel, Welcome Home Sanitizer, SterilU, Pettree, Herkes İçin De, heybe, presented their projects to Arçelik's senior managers. Petree is a vertically layered, alternative organic agricultural product growing system that functions through the reuse of PET waste in the community. Herkes için DE is a website interface designed for blind, deaf and hearing-impaired individuals who do not have access to digital products in the new normal after COVID-19. SterilU is a portable device that can sterilize pathogens in a few minutes by being placed in closed areas such as refrigerators, glove compartment of cars, luggages, ovens, kitchen cabinets or laundry baskets at home, in the car or office. heybe is a smart mailbox that allows the courier and the customer to connect to the system through IoT and Cloud technologies, allowing identity verification without third part interference, and aims to prevent theft with smart fabric and security solutions. Through FAR UV-C technology and a user-friendly design, Welcome Home Sanitizer aims to shorten the time spent on product cleaning when entering home by providing an effective disinfection.
The hackathon has demonstrated that "the new normal" can be hacked through collaboratian and the exchange of new ideas. The 2.5 days of trainings, webinars and mentorship were benefited by all teams. Although 5 teams have earned the most points and have been chosen to present their projects, additional support will be provided to as many projects as possible.