Adapting to the New Energy Labels 
Energy labels of the European Union (EU) have given an indication of the energy efficiency of products. This makes it easier for consumers to save money on their household energy bills and at the same time, reduce greenhouse gas emissions. Since the comparative scale was first introduced in 1994, it has been a key tool in helping consumers choose products that are more energy efficient.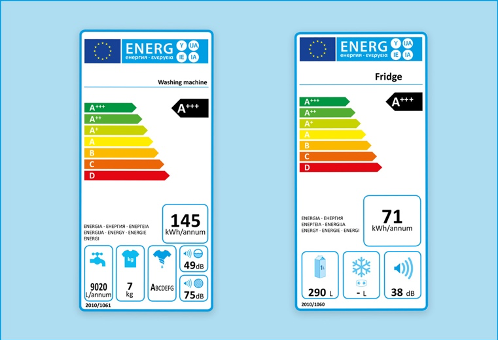 Old energy efficiency labels – Washing Machines, Fridge
With the label reform announced by the European Commission in March 2019, five product groups will be 'rescaled' in the course of 2021; refrigerators, dishwashers, washing machines, electronic displays and lamps. The transition to the first set of new energy labels for these products, with the exception of lamps, will be completed between November 2020 and 1st of March 2021.
Gradually, the categories will be adjusted to the simpler A to G scale. This change was primarily due to the development of more and more energy efficient products; and because the difference between A++ and A+++ was not clear to the consumer. New energy labels have been created by taking into account real-life customer behavior and with them, consumers can recognize the best performing products.
Additionally, noise levels on appliances will be rated on a scale from A to D, on top of the decibels, or dB(A), listed for the product. This makes the noise information much more accessible to everyone.
Furthermore, getting an A rating will be much harder than it was before. This is explicitly to encourage leading brands to invest in innovation and energy-efficient products. This means that eco-friendly and energy-efficient products will increasingly lower the amount of energy they consume.

New EU energy efficiency labels (from left to right): Dishwashers, Washing Machines, Washer Dryers, Refrigerators, Electronic Displays
As Arçelik, we see the shift in EU energy labeling and regulations as an opportunity for us to become more energy efficient, step up our efforts to invest in innovation and create more energy-friendly products. We believe that the new energy labels are just one more step closer to becoming a more sustainable business, and a huge step forward for the industry and our global brands, as we've been placing both aesthetic beauty and sustainability at the forefront of our priorities.
Washing Machines and Washer-Dryers
The energy efficiency class of washing machines is based on the energy consumption level of new "Eco 40-60" program.
The "Eco 40-60" program is recommended to wash your dirty, durable cotton and linen laundry that is declared to be washable at 40°C or 60°C on the care label of the cloth. This program is the most efficient program and offers high energy and reduced water consumption.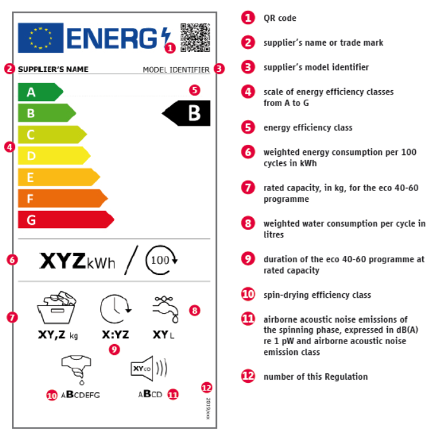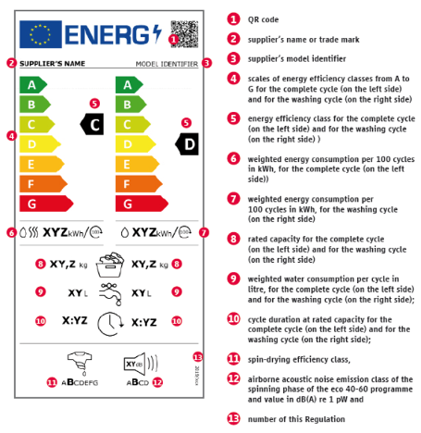 New EU energy efficiency labels for washing machines and washer-dryers (from left to right)
Dishwashers
The energy efficiency class of dishwashers is based on the energy consumption of "Eco" program. The "Eco" program is ideal for cleaning dirty dishes. This program is the most efficient program and offers high energy and reduced water consumption.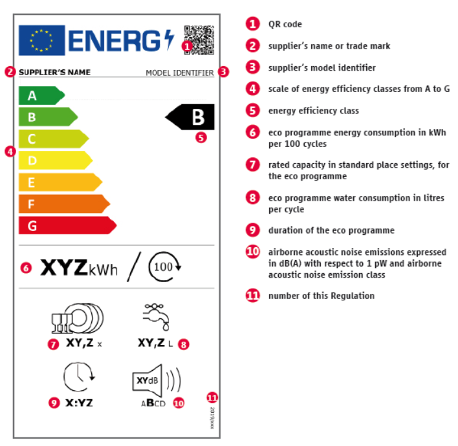 Refrigerators
Using a scale from A (most efficient) to G (least efficient), the labels will also include details on the compartment volume and sound emissions. The number of bottles that can be stored will be displayed for wine storage units.
The ratings will take into account energy consumption, storage volume, and whether or not the appliance has a freezer compartment and other factors.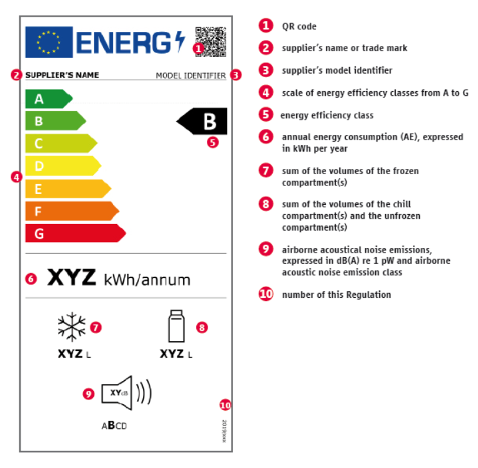 Electronic Displays
Some specific regulations have been rolled out that apply to televisions and electronic displays. The new ratings focus on how energy-efficient the displays can be given the size of the screen. Overall energy efficiency is measured with ratings based on how much energy is used when the TV is off, on standby, connected to the internet, etc. Ecodesign requirements such as the availability of spare parts and repair information also apply to television sets.