A response from Beko to Age of Nesting with the new HygieneShield line

Before COVID-19, we were in an era where social media was dominating our lives; our social presence, non-stop scrolling and constant consumption was on the rise. However, lockdowns and extreme measures have changed these trends as people were required to stay in their homes rather than socialising or interacting with the outside world. 
A recent report published by Beko in partnership with The Future Laboratory expands on the idea that "once a place to leave in the morning and return to at night, many homes are now occupied nearly 24/7 and this shift marks the beginning of a new era." The report deems the era as "The Age of Nesting". It suggests that by 2030, the "Age of Nesting" will become the way humans live and the homes they live in will be transformed significantly.
According to the report, pandemic-proof living is one of the key markers of this future and the new living concepts that the Age of Nesting will inspire. Collective concerns about hygiene and wellbeing will lead to new directions in how we live, with hyper-hygienic, sustainable and pandemic-proof lifestyles coming to the fore.
As Martin Raymond, co-founder of Future Laboratory, said, "Hygiene has come into focus because of the psychological trauma of the pandemic. It is breeding a germ-conscious generation who rely on the mental relief of their inner sanctums to provide succour from a virus-ridden world." This shift has opened the way to new home innovations designed to reduce exposure to viruses/pollutants and to maximise personal hygiene.
Consumer research from Beko, Europe's leading home appliance brand, has shown that today, one of the primary concerns is hygiene. 
75% of people clean the house more often, 64% do more laundry and 68% pay more attention to the cleanliness of the packaging. As a response to these shifting needs and trends, Beko has developed Hygiene Shield, a ground-breaking portfolio of household products. The line draws inspiration from nature and uses methods such as steam and heat to enable consumers to achieve excellent hygiene results at home. Initially, seven main products were introduced as part of the Hygiene Shield line:
UV cleaning cabinet

Combi refrigerator with disinfection tower

Tumble dryer wit UV light technology

HygieneShield washing machine 

HygieneShield washer dryer

Built-in oven with saturated steam and heat

HygieneShield dishwasher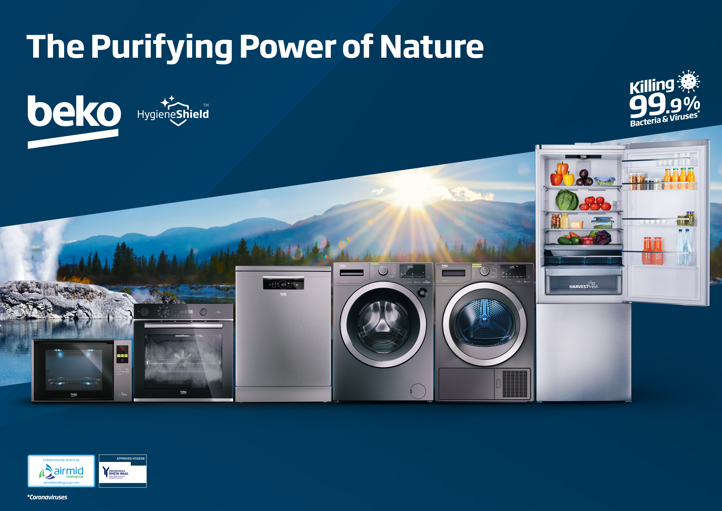 These products have been tailored to help consumers achieve a professional level of hygiene at home and protect them from infections and diseases. As Hakan Bulgurlu, our CEO, said in the product launch, "As of today, HygieneShield washing machines, washer dryers, ovens and refrigerators have been shown to provide more than 99% virus reduction."
Through this product line, Beko will work to ensure that everyone has access to high-quality products that care for them and the environment while at the same time enhancing their hygiene experience at home in the Age of Nesting and beyond.
Hygiene, sustainability and wellness are an all-time high priority for today's consumers and will shape the next generation who have been brought up in the shadow of the pandemic. It is, however, a chance to reset and re-adjust how people relate to their internal and external spaces. With a focus on communities coming together, on time decelerating and a zoned yet fluid approach to living. The Age of Nesting will see us becoming healthier and happier in our homes for decades to come.