In line with its sustainability approach and commitment to protect environment, Arçelik works to minimize the environmental impacts of its products throughout their lifecycle thanks to new generation practices, and to reduce its environmental footprint by effectively managing all stages of value chain.
In Arçelik, all environmental aspects and impacts through life cycle of a product are taken into consideration. We take different measures and develop programs/projects in all life stages of our products. We use recycled raw materials while increasing overall product recyclability in production. When products are sold to consumers, Arçelik supports longevity and repairability to minimize product environmental impact while preserving natural resources. We redefine our product design and manufacturing processes in line with circularity principles helping to extend the product life cycle. In line with this principle, we started to conduct life cycle assessment (LCA) studies for our products.
As Arçelik, we completed the life cycle assessment study for the first time for a washing machine which is manufactured in our Çayırova Washing Machine Production Plant. In our study cradle-to-grave life cycle approach which includes raw material, raw material transportation, product manufacturing, product transportation, use phase and end-of-life stages has been used. According to the results obtained from the life cycle assessment, approximately 87% of the carbon footprint of a washing machine during its life cycle comes from the use phase. The carbon footprint distribution is shown in the chart below.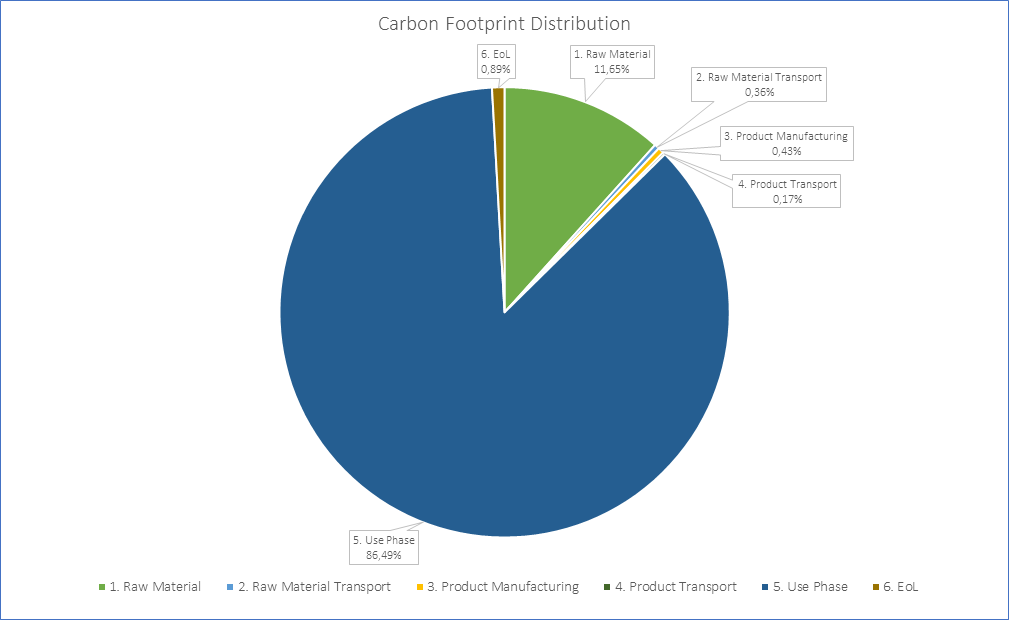 Arçelik, acting as the pioneer of the sector with its ever-growing and environment-friendly technologies, gives priority to the circular economy in its operations. In line with circular economy principles, Arçelik makes major contributions to gaining recycled materials to economy and efficient use of limited natural resources of the world. Reducing wastes generated by production processes at the source and recovering generated wastes constitute the primary components of the integrated waste management approach of Arçelik. Wastes generated in all plants are categorized, collected separately at the source in accordance with waste type and legal regulations and recovered or disposed pursuant to waste type.
In Arçelik, all environmental aspects and impacts through life cycle of a product are taken into consideration in accordance with ISO 14001 EMS. Especially in production stages that occur at Arçelik plants are analyzed in detail to determine effects on the environment.
Environmental aspects and impacts of the activities in all production stages at Arçelik production plants are determined in detail. Defined aspects are evaluated and prioritized by using Arçelik Environmental Risk Assessment Methodology.
Impacts of processes on environment are classified in 7 categories as;
Air pollution

Water pollution

Soil pollution

Raw material consumption

GHG effects

Noise pollution

Odour
As a responsible producer, Arçelik cares about end of life of the products. Products under warranty are brought to Arçelik Reuse Centers to take out their reusable and valuable parts to reuse in the installation stage of production. Arçelik, which benefits from its extensive authorized dealer and service network for recycling products that are no longer used by consumers, achieves the reuse, recycle and disposal of products at its own recycling facilities.
Arçelik has been calculating GHG emissions since 2006 and has been certified its GHG emissions according to ISO 14064-1 and IPCC which is verified by an independent body in a " reasonable assurance " level since 2010.
Therefore, environmental impact assessment is performed before new investments.