We transform our business and build the future together with our stakeholders.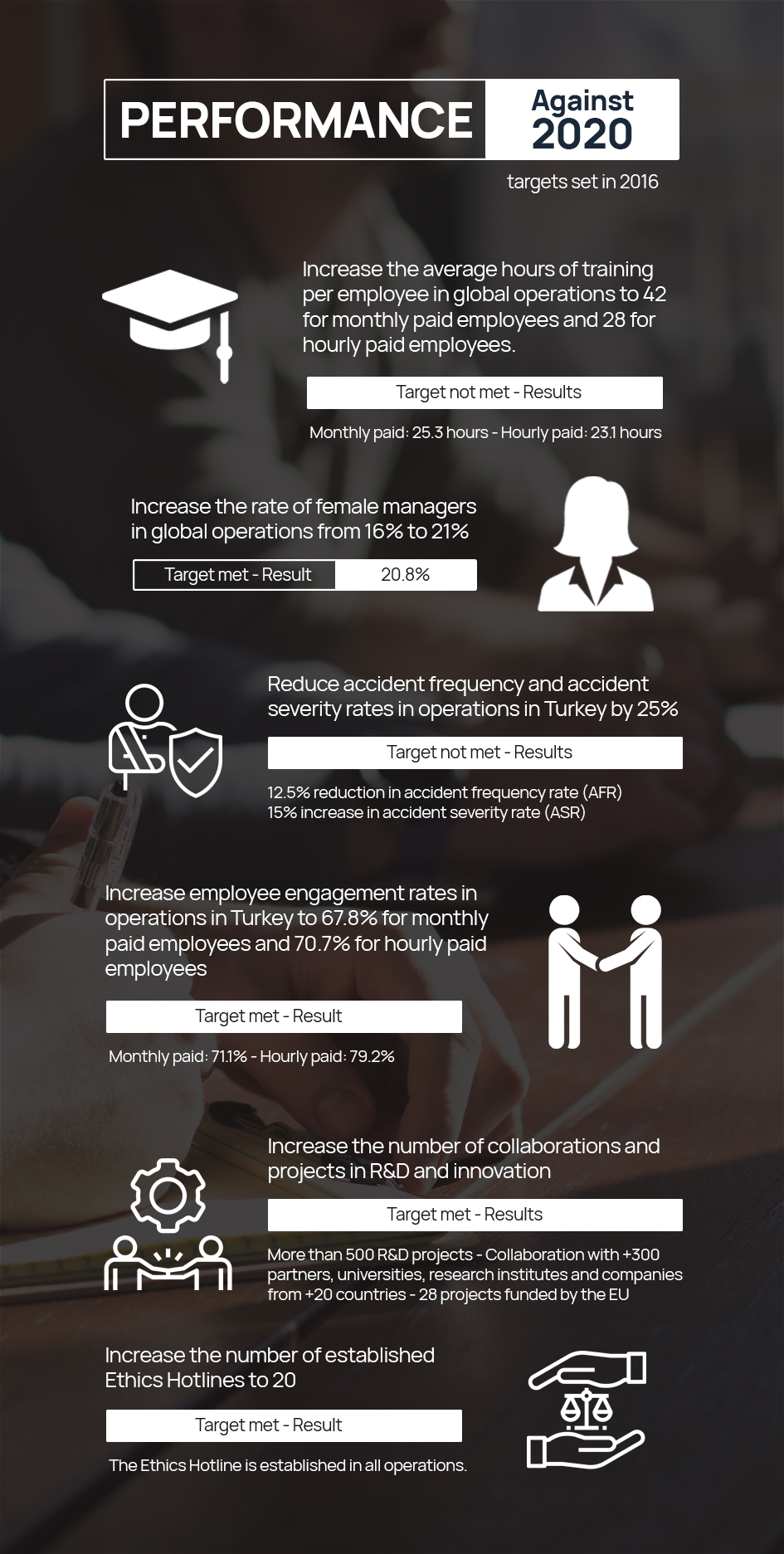 Please see the report for the target scopes and base years.
Other Key Developments 
Ethics and transparency

The Global Code of Conduct and related Policies were communicated in 18 languages and the launch was completed globally.

54 grievances were reported through Ethics Hotline channels and 32 cases were substantiated.

Digitalization and consumer experience

Through Digital Audit System we saved EUR 0.55 million on total operations, achieved higher dealer penetration and applied our digitalization vision to our dealers.

We implemented agile execution of 16 projects by more than 300 people working under 33 teams.

Customer satisfaction and communication

NPS score in Turkey decreased by nearly 5% compared to 2019 due to the difficulties caused by the COVID-19 crisis. However, Beko Plc in the UK reached its highest score with 65.7. Based on the results, eight main and 34 sub-projects were designed for 2021 to provide better quality services, and thereby increase the satisfaction level.

Data security and consumer privacy

A complete General Data Protection Regulation (GDPR), and Personal Data Protection Law (KVKK) Maturity Test audit were completed by an external auditor.

The IoT Security Test and Evaluation Center (ISTEC) in Turkey carried out cyber security tests for our WiFi-connected ovens, refrigerators and washing machines.

Our Beko HomeWhiz smart dishwasher, the 2018 IoT Security Champion, was included as the only product that meets the UK government's IoT security criteria in the smart white goods category in the report, Evidencing the Cost of the UK Government's Proposed Regulatory Interventions for Consumer IoT.

Product quality and safety

We updated our recall procedure regarding latest approaches published as BS PAS 7100:2018 by Office for Product Safety and Standards (OPSS).